Subscribe to our newsletter
Promotions, new products and sales. Directly to your inbox.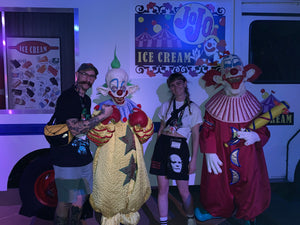 MEET THE MAKERS
Hello! We are Rob and Jess, the couple behind Hell On Shirts. We have been together for 8 years, but we didn't start Hell On Shirts until late 2018/beginning of 2019. We noticed a huge gap in the U.K. horror t shirt market. It was pretty much non existent. All the incredible horror t shirts were from overseas. So we took this opportunity to start up one of the UKs first online horror t shirt small businesses. We didn't know what to expect. We made 50 t shirts of our first design, put them up for sale, and before we knew it, we had sold out in the first 24 hours. And the rest is history... We're working hard to bring exclusive licenses to the U.K.  There has been lots of hardships, but we have pushed through and we're so proud and happy with all we have managed to accomplish. And we've only just started! We have got such sights to show you....We're incredibly appreciative of all our followers and customers who have stuck by us and continue to support us. You guys mean the absolute world to us and we can't express our gratitude enough. Thank you to all of you so much, whether it's buying a shirt, or sharing our designs to your friends, it means the world to us. Shirts for the sick forever!
Rob and Jess